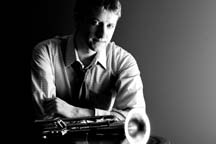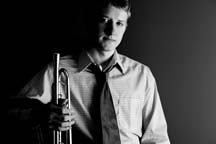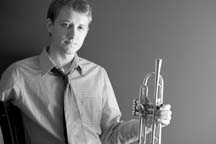 (Photography by Kathy Fallon Photography)
 
Joseph Boga is equally comfortable performing in both classical and jazz genres. His trumpet teachers have included Mark Gould, Wynton Marsalis, Chris Gekker, Joe Magnarelli, and Chris Jaudes. He has performed in a diverse array of venues, both in the U.S. and abroad, with an impressive array of both established and emerging artists.
In jazz, he leads his own nonet and other small groups; performs regularly with James Langton and the New York All-Star Big Band, Vince Giordano and The Nighthawks, Ron Wasserman's NYJazzharmonic Trad Jazz Sextet, and The Kyle Athayde Dance Party; and has performed professionally with Wycliffe Gordon, Loren Schoenberg, Gordon Webster, Chris Norton, Danny Lipsitz, Tatiana Eva-Marie, The Avalon Jazz Band, Adrian Cunningham, Allyson Briggs, Phil Woods, Rick Chamberlain, Lapis Luna, and many others. He has also performed with ensembles backing featured singers such as Michael Feinstein, Mitch Winehouse, Cyrille Aimee, Charenee Wade, and others.
Classically he has performed as a soloist with a number of ensembles, including the Northeastern Pennsylvania Philharmonic, the Bucknell University Wind Ensemble, and the Scranton Brass Orchestra, among others; as a member of the legendary New York Trumpet Ensemble led by Mark Gould; and with a variety of brass quintets and  orchestras in the New York tri-state area including The International Contemporary Ensemble and The Garden State Philharmonic, among others.
Joseph's musical versatility has led to performances in a wide array of musical genres, including with rock and pop artists such as Grammy award-winning producer and musician Mark Hudson and Giselle, as well as avante-garde and experimental music groups.
As a composer and arranger, Joseph has written for brass orchestra, big band, string orchestra, choir, and has written extensively for various sized jazz ensembles.
Joseph has offered masterclasses and clinics in seven states; has served on the faculty of The Scranton Brass Seminar, The Juilliard Jazz Camp in Atlanta, and The Sitka Jazz Festival in Alaska; has offered a clinic at COTA CampJazz as part of The Delaware Water Gap Celebration of the Arts educational outreach offerings; and maintains a small private trumpet studio enrollment.
A 2014 graduate of The Juilliard School, Boga received a number of musical and academic awards and honors during his student days, including The Billy Strayhorn Scholarship at The Juilliard School, The Eastern Music Festival Orchestra in summer of 2012, the position of principal trumpet for the 2009 MENC All-Eastern Orchestra, The COTA Phil Woods Award, and the PMEA D9 William Gasbarro Award, among others. As a teenager, he had the privilege of appearing with The Wynton Marsalis Quartet.
Joseph also plays piano and bass.