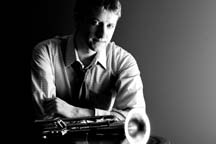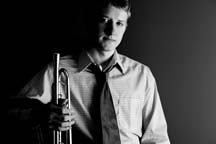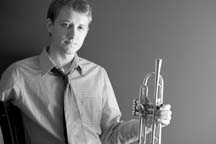 (Photography by Kathy Fallon Photography)
Trumpeter Joseph Boga is equally comfortable performing in both classical and jazz genres. His trumpet teachers have included Chris Gekker, Mark Gould, Chris Jaudes, Joe Magnarelli, and Wynton Marsalis.
He has performed in a diverse array of venues, from Carnegie Hall to Birdland, in the U.S. and abroad, with an impressive array of both established and emerging artists. 
In jazz, he leads his own small groups and can be heard and seen performing with a variety of acclaimed ensembles such as Vince Giordano and The Nighthawks, James Langton's New York All-Star Big Band, David Ostwald's Louis Armstrong Eternity Band, Ron Wasserman's NYJazzharmonic, The Kyle Athayde Dance Party, and acclaimed artists such as Wycliffe Gordon, Gordon Webster, Adrian Cunningham, Tatiana Eva-Marie, and many others. 
Classically he has performed with a variety of orchestras and small ensembles as a soloist and as an  ensemble player, including The International Contemporary Ensemble, The Garden State Philharmonic,  The New York Trumpet Ensemble, The Scranton Brass Orchestra, and The Northeastern Pennsylvania Philharmonic, among others. 
Joseph's musical versatility has led to performances in a wide array of musical genres, including with rock and pop artists such as Grammy award-winning producer and musician Mark Hudson, as well as avante-garde and experimental music groups. 
Ensembles and artists Joseph has recorded with include Vince Giordano and The Nighthawks, James Langton's New York All-Star Big Band, The Kyle Athayde Dance Party, Loudon Wainwright III, Wycliffe Gordon, Jools Holland, and Ron Wasserman's NYJazzHarmonic Trad Jazz Sextet. Recent radio and film credits include an interview and performance with Jools Holland at Louis Armstrong House for "On The Road with Jools Holland" on BBC radio, and recording and filming with Vince Giordano and The Nighthawks for the second season of the hit series "The Marvelous Mrs. Maisel".
As a composer and arranger, Joseph has written for brass orchestra, big band, string orchestra, choir, and has written extensively for various sized jazz ensembles. He is experienced writing for all levels, from young players and ensembles to professionals.
Boga has also worked for Wynton Marsalis as a Music Administrator, where his responsibilities included editing and reformatting scores, cross -checking and compiling annotations from individual instrumental parts, proofreading musical notations, and musical transcription from recorded performances. He has also edited audio and video on a recent project for Nicola Benedetti's foundation.  
He has offered masterclasses and clinics nationally and internationally, including at festivals and educational camps such as The Scranton Brass Seminar, The Juilliard Jazz Camp in Atlanta, Sitka Jazz Festival, COTA CampJazz, and Kindred Spirits. He has also served as guest soloist and teaching artist at a number of schools and universities. Since 2018 he has been on the faculty of the Lafayette Summer Music Workshop sponsored by Generations in Jazz in California. While at Juilliard, Joseph worked with Juilliard Pre-college students by directing sectionals as well as playing with students in the Juilliard Pre-college Orchestra. He was recently the guest conductor for the Pennsylvania Music Educators Association District 9 Honor Jazz Ensemble, and has maintained a small and select private trumpet studio for 10 years teaching students of all ages. He is currently available for remote teaching for clinics, masterclasses, and lessons. 
A 2014 graduate of The Juilliard School, Boga received a number of musical and academic awards and honors during his student days, including The Billy Strayhorn Scholarship at The Juilliard School, The  Eastern Music Festival Orchestra, the position of principal trumpet for the 2009 MENC All-Eastern Orchestra, The COTA Phil Woods Award, and the PMEA D9 William Gasbarro Award, among others. As a teenager, he had the privilege of appearing many times with The Wynton Marsalis Quartet. 
Joseph also plays piano, bass, and alto clarinet.